Congestion and pollution are seen as increasingly serious problems for city dwellers. Aircraft manufacturers are looking at solving both issues using smart electric air taxis and buses that cut both journey time and toxic greenhouse gas emissions. By Jeremy Torr.
SINGAPORE, 26 March 2018. "Today marks a historic day for Airbus and the Vahana team," said project leader Zak Lovering, earlier this year. The occasion was the first flight of its full-scale pilotless Vahana air taxi in Oregon, US. Lovering said the group's aim has "long been to design and build a single passenger electric vertical takeoff and landing (VTOL) self-piloted aircraft that will answer the growing need for urban mobility."
Using new technologies like electric propulsion, energy storage, and machine vision, the Vahana team envisage city commuters calling up an air taxi to the nearest rooftop, telling it where to go, then closing the door and zipping over the city skyline while checking their phone messages or reading a book.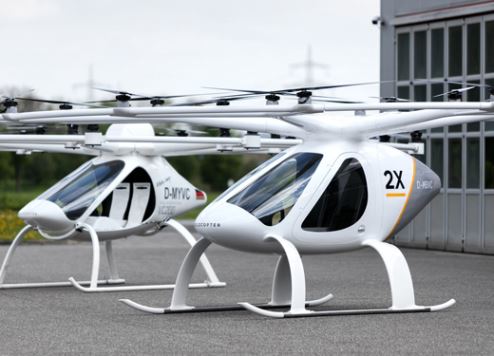 Dubai is already trialling Volocopter air taxis with live passengers. Courtesy Volocopter.
Already far-sighted cities like Dubai are looking the alternatives to gas-puffing four doors on wheels, and investigating air transport as an alternative. Its Roads and Transport Authority (RTA) will begin trial operation of an 18-rotor manned air taxi in 2018, supplied by German independent company Volocopter. The two-passenger air taxis will be a part of Dubai's push to "transform Dubai into the smartest city worldwide . . . and that transforms a quarter of the total mobility journeys in Dubai into autonomous transport by 2030," said Mattar Al Tayer, DG of Dubai's RTA.
It's also no surprise the astonishingly successful Chinese drone industry is eyeing the potential of its proven autonomous flight expertise to move into the human transport business. Drone maker eHang has already successfully trialled a manned drone with its eHang 184. "Now that we've successfully tested the Ehang 184," said company founder and CEO Huazhi Hu, "I'm really excited to see what the future holds for us in terms of air mobility."
But it's not all cutesy personal air taxis we will see hovering over plush hotels and corporate helipads if Airbus can ramp up progress on its new Skyways and AirBus projects. As spokesperson Vassilis Agouridas noted, even the most progressive and eco-minded city planners are still concentrating on the ground level when it comes to transport solution.
"Given today's technological and business constraints, most smart city concepts [strangely] completely ignore flying," he asserted. "That's why we're convinced that this [kind of local air transport concept] represents a truly disruptive opportunity for us."
Accordingly, Airbus is also working on multi-person local autonomous aerial transport machines. Called CityAirBus, passengers would book a seat on a CityAirbus, go to the nearest launch pad, climb aboard and be whisked away to their destination. Unlike project Vahana, several passengers would share each aircraft on each set journey, and better still, the sharing economy principle would make journeys much more affordable. The project's planners claim each passenger would pay "nearly the equivalent of a normal taxi ride for each passenger," but say the trip would obviously be way faster, more environmentally sustainable and exciting.
eHang is well advanced in its trials of its 184 totally auto, part piloted or remotely flown air taxi, but says there is a lot more development to be done – as always in the development and application of any transformative technology. "First the technological innovation makes an impact, then the relevant policies are created and developed," he said, indicating that the tech is currently way ahead of the current aviation legislation – and a potential minefield for conventional aircraft flying near cities. As Airbus Helicopters spokesperson Bruno Trabel put it: "No country in the world today allows drones without remote pilots to fly over cities – with or without passengers." But some places are working on it - Airbus and the Civil Aviation Authority of Singapore (CAAS) have agreed to test commercial drone flights to its port and local university, through controlled airspace.
Skyways head of demonstrators Marius Bebesel said there were also issues to be resolved such as noise, communications, hack-proofing, and more, but that the concept of air taxis has nonetheless seen a strong takeup from a host of small innovative companies convinced of its viability. "There's a lot going on at the moment. Many companies are working on prototypes, but what's striking is that many of these players are newcomers, and we are hearing very little from the usual suspects. But that doesn't necessarily mean that there's nothing going on there: they may be operating in stealth mode," said Airbus.
By 2030, 60% of the world's population will live in cities, which is 10% more than today. Already in Brazil's Sao Paulo, rush-hour traffic jams have already been recorded at a staggering 344 kilometres in one day. And research has suggested that mega-tailback alone could cost US$31billion every year.
eHang's Huazhi points out that although the testing phase of many air taxi concepts might seem a bit Buck Rodgers or Star Trek, it is, in reality, far from it. It's serious. "What we're doing isn't [just] an extreme sport," he said. "It's about [true] air mobility." And pollution and congestion too. Roll on the air taxi ranks!